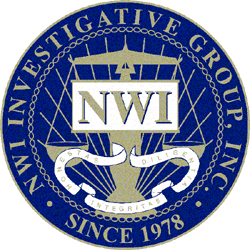 COMMITMENT LETTER
Since 1978, NWI Investigative Group has specialized in providing critical information for the Insurance Industry, Law Firms and Corporations to aid them in evaluating their cases. NWI offers a wide variety of prompt, accurate and confidential services. We are a licensed, bonded and insured private investigation firm.

Our clients are our most valued resources. Everyday we service clients who depend on us for discreet, responsive and professional investigative work. They require and receive timely and detailed reports, that highlight the facts and evidence pertinent to the case.

By enlisting the services of NWI Investigative Group, you will be utilizing a company with over 100 years of combined investigative and insurance experience. Our Investigators are strategically located throughout the United Stated to minimize travel and maximize their knowledge of the area. We utilize high-tech video equipment and have access to extensive computer and database networks.

NWI has a proven success record. We have the ability to service and customize investigations, to meet the specific needs of our clients. This has made NWI one of the largest and most successful Private Investigation firms in the industry.

To use NWI Investigative Group's services or for a free consultation, please call our toll free number at 1-800-253-5990.